(Clearance) Metz mecablitz 54MZ-4 TTL Shoe Mount Flash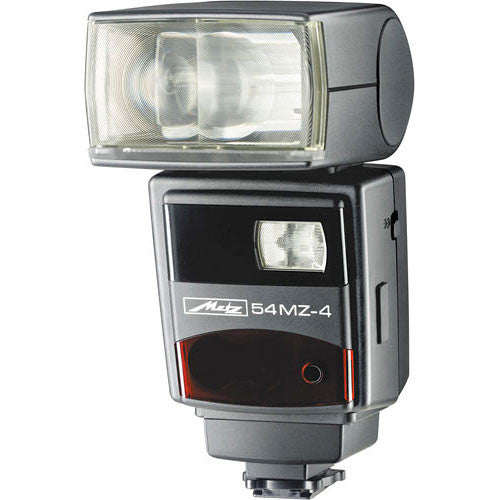 Regular price
899.00
Sale price
399.00
---
Description
The Metz 54MZ-4 is a compact flash that is simple to operate and is loaded with every special function imaginable. Ergonomics are straightforward, with most features operable with only one button. Power is very powerful for a shoe-mount flash unit. Intelligent engineering is evident everywhere, from the auxiliary flash with built-in neutral density filter to the redeye-reducing "Cobra" design of the flash head itself.
This model is supplied with a standard non-dedicated shoe (module).
Details
Compatible with Metz Remote System 
The 54 MZ-4 becomes a master TTL flash by attaching a camera-specific TTL SCA system module and incorporating a slave flash (32 Z-2, 32 MZ-3, 40 MZ-1*, 40 MZ-3*, 44 MZ-2, 50 MZ*, 54 MZ*, 70 MZ* & 76 MZ*) with the SCA 3083 adapter attached to the slave.  The combo also works in non-TTL autoexposure mode for older or manual cameras.  Used with the SCA 3083, the 54 MZ-4 can be a general slave or a slave with digital preflash suppression.
Compatible with digital cameras
"Cobra Design" flash reduces the redeye effect
Autozooming head can cover from 24 to 105mm, and 20mm when used with the included wideangle diffuser
Flash tilts downward to better illuminate closeup subjects
High-speed flash synchronization allows flash to be used with any shutter speed (only with appropriate camera bodies)
Wireless full TTL triggering
Evaluative preflash metering & Stroboscopic flash for previewing effect
Excellent power capacity: Regular alkaline batteries yield 180 full-power flashes, NiCd batteries yield 60, Powerpacks P40 & P50 yield 160 & 350 respectively
Technical Specs
Type

Shoe mount

Guide Number

72' (22 m) at 20mm
92' (28 m) at 24mm
102' (31 m) at 28mm
112' (34 m) at 35mm
131' (40 m) at 50mm
151' (46 m) at 85mm
177' (54 m) at 105mm

Angle of Coverage

84° to 23° (24-105mm lenses in 35mm format)
94° (20mm) with included wideangle diffuser

Auto Distance Range

Variable

Auto f/Stops

f/2.0, 4.0 & 8.0

Variable Power

25 Levels ranging from 1/1 to 1/256th

TTL Dedication

Yes

Bounce Head

Yes

Swivel Head

Yes

Zoom Head

24-105mm (manual, or flash senses focal length & adjusts)

Off Camera Terminal

Only with optional #53008 Metz Off Camera Cord

Recycle Time

6 Seconds (based on fresh alkaline batteries & full power)

Power Source

Four 1.5-Volt "AA" batteries (alkaline or NiCd)
Optional Power Packs P40 & P50

Dimensions

3.0 x 4.9 x 4.3" (75 x 125 x 108mm) WxHxD

Weight

1 lb (480 g)
Other customers also viewed: